durobond pro dual side coir mattress
---
Features
• Dual Side
• Naturally Cooling Coir
• Firm Back Support
• Anti Piling Fabric
• Anti Sagging
Regular price
M.R.P: ₹ 9,071

(Inclusive of all taxes)
7% off
You Save ₹ 668
Unit price
per
(Inclusive of all taxes)
Sale
Sold out
Get it as low as ₹ 7,982.85 using coupon "SAVENOW" offer *T&C Apply.
OFFERS
• Use Code SAVENOW at checkout to get additional 5% Off
• 10% Instant Discount on ICICI Bank Credit Cards & EasyEMI
• Free Shipping
Please enter pincode to validate
Shipping Available at: Change
Estimated delivery at .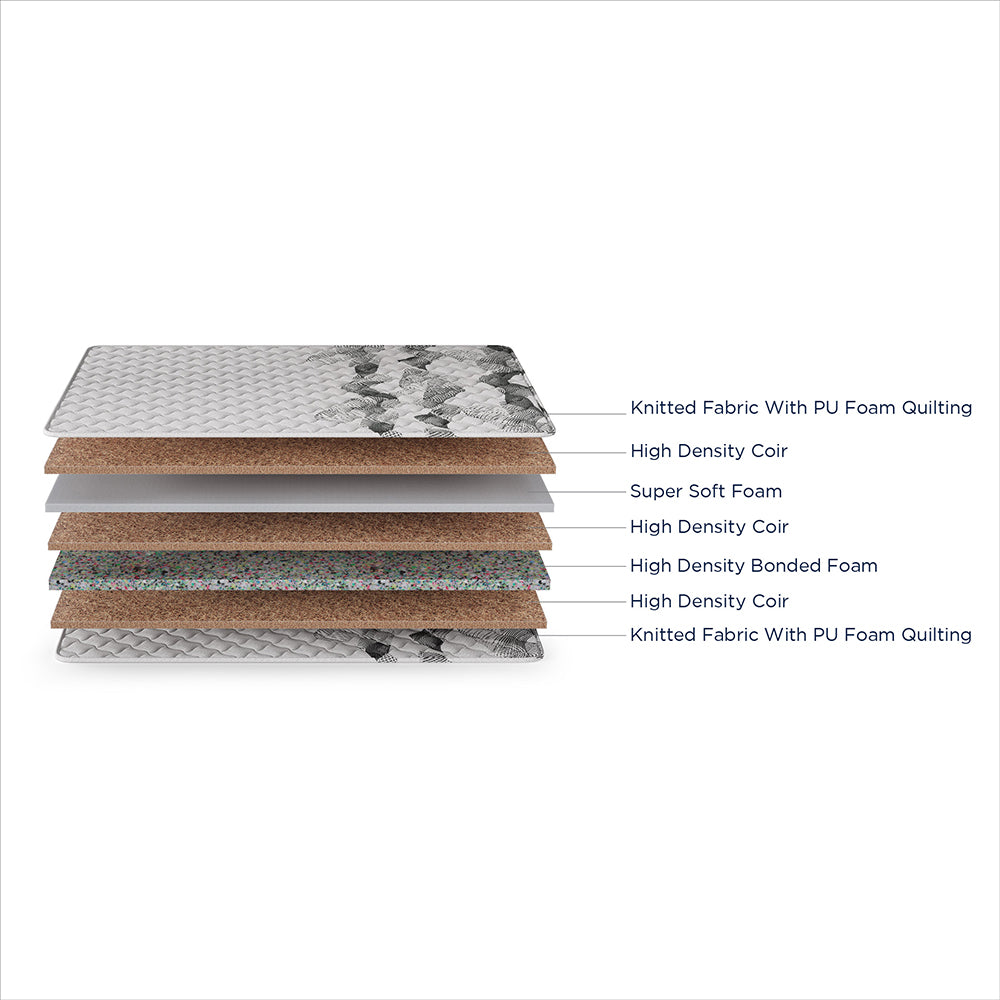 DUROBOND PRO
Bring home the best balance of support and comfort with our dual side Durobond Pro Coir Mattress. Designed keeping durability in mind, this mattress promises full body support and is suitable for all kinds of sleepers who priortise natural ventilation and sturdy comfort. Made from natural coir, it stays cool and fresh for longer periods of time..
FIRMNESS SCALE
FEATURES
Dual Side
A reversible mattress featuring a firm support foam layer on one side and a soft comfort foam on the other. Flip it over as per your convenience for a personalized sleep experience
Naturally Cooling Coir
High density coir ensures solid support along with natural coolness and ventilation.
KNOW MORE
PRODUCT SPECIFICATION
Features
Details
Range
Essential
Firmness
Firm
Mattress Type
Rubberised Coir
Fabric Type
Knitted fabric
Warranty
5 years
Best Suited For
People looking for Dual side Coir mattress with firm and medium firm feature.
Body Support
Yes
Orthopedic Certification
No
Zero Partner Disturbance
No
3 Zoned Body Support
No
5 Zoned Body Support
No
Pressure Relief
No
Dual Side Usage
Yes
Ventilation
Yes
Anti Sagging
Yes
CARE INSTRUCTIONS
KEEP IT PROTECTED
To protect your mattress from dust, spillage and allergens always keep it covered. Best to use a mattress protector
DON'T FOLD YOUR MATTRESS
Doing so may damage the construction of the mattress
DON'T SMOKE IN BED
It is advisable not to smoke in bed as it is a potential fire hazard.
DON'T IRON ON THE MATTRESS
This can cause serious damage to the outer fabric or the foam inside the mattress and is also a potential fire hazard.
DEEP CLEAN YOUR MATTRESS
To have your mattress stay fresh and hygienic it is best to get professional deep cleaning done bi-annually.
DELIVERY & RETURNS
•We deliver all across India. The delivery timelines depend on the pincode and will be communicated to you once the order is placed.
• We aim to dispatch the products within 24-48 business hours of receiving an order. In case it is a custom-size order, the delivery time can get extended
• We offer an easy 10-day replacement for all the orders placed via this website
• All the details related to the return process can be found in "My Account"
WARRANTY
•We have always upheld the highest design and manufacturing standards. Most of our products are covered under our warranty policy.
• In case you encounter any issue while using our product, we recommend that you look up the product warranty details you would have received upon registering your product online to understand if and how you can claim warranty.
• In the unlikely event of product failure, we are be happy to have it replaced or repaired.
• The product comes with a 5 Years of conditional warranty.
QUALITY PROMISE
•We follow ISO 9001-2015 quality standards for all Duroflex products
• Our 5 decades of expertise makes our quality unmatchable and trustworthy.
• All our manufacturing processes are backed by dedicated research and development.
• Our raw materials are ethically sourced with stringent quality checks in place.
Durobond Pro Dual Side Coir Mattress
Regular price
M.R.P: ₹ 9,071

(Inclusive of all taxes)
7% off
You Save ₹ 668
Unit price
per
(Inclusive of all taxes)
Sale
Sold out
Get it as low as ₹ 7,982.85 using coupon "SAVENOW" offer *T&C Apply.
EMI Options
Bank Name
Minimum Amt.
3 EMI
6 EMI
9 EMI
12 EMI
18 EMI
24 EMI
AMEX EMI
₹ 5000

₹ 3,193.14

 (14%)

₹ 1,596.57

 (14%)

₹ 1,064.38

 (14%)

₹798.28

 (14%)

₹532.19

 (14%)

₹399.14

 (14%)
BARB EMI
₹ 2500

₹ 3,165.13

 (13%)

₹ 1,582.56

 (13%)

₹ 1,055.04

 (13%)

₹791.28

 (13%)

₹536.85

 (15%)

₹402.64

 (15%)
CITI EMI
₹ 2500

₹ 3,165.13

 (13%)

₹ 1,582.56

 (13%)

₹ 1,073.71

 (15%)

₹ 805.28

 (15%)

₹ 536.85

 (15%)

₹ 402.64

 (15%)
HDFC CC
₹ 3000

₹ 3,221.15

 (15%)

₹ 1,610.57

 (15%)

₹ 1,073.71

 (15%)

₹ 805.28

 (15%)

₹ 536.85

 (15%)

₹ 402.64

 (15%)
HSBC CC
₹ 2000

₹ 3,221.15

 (15%)

₹ 1,610.57

 (15%)

₹ 1,073.71

 (15%)

₹ 805.28

 (15%)

₹ 536.85

 (15%)

₹ 402.64

 (15%)
ICICI EMI
₹ 1500

₹ 3,165.13

 (12.99%)

₹ 1,596.57

 (13.99%)

₹ 1,064.38

 (13.99%)

₹ 798.28

 (13.99%)

₹ 536.85

 (14.99%)

₹ 402.64

 (14.99%)
INDB EMI
₹ 2000

₹ 3,165.13

 (13%)

₹ 1,582.56

 (13%)

₹ 1,055.04

 (13%)

₹ 791.28

 (13%)

₹ 536.85

 (15%)

₹ 402.64

 (15%)
KKBK EMI
₹ 3000

₹ 3,137.12

 (12%)

₹ 1,568.56

 (12%)

₹ 1,064.38

 (14%)

₹ 798.28

 (14%)

₹ 536.85

 (15%)

₹ 402.64

 (15%)
₹ 3500

₹ 3,249.16

 (16%)

₹ 1,624.58

 (16%)

₹ 1,083.05

 (16%)

₹ 812.29

 (16%)

₹ 541.52

 (16%)

₹ 406.14

 (16%)
RATN EMI
₹ 1000

₹ 3,165.13

 (13%)

₹ 1,596.57

 (14%)

₹ 1,073.71

 (15%)

₹ 805.28

 (15%)

₹ 536.85

 (15%)

₹ 402.64

 (15%)
SBIN EMI
₹ 2500

₹ 3,193.14

 (14%)

₹ 1,596.57

 (14%)

₹ 1,064.38

 (14%)

₹ 798.28

 (14%)
SCBL EMI
₹ 2500

₹ 3,137.12

 (11.88%)

₹ 1,582.56

 (13%)

₹ 1,064.38

 (14%)

₹ 798.28

 (14%)

₹ 536.85

 (15%)

₹ 402.64

 (15%)
UTIB EMI
₹ 3000

₹ 3,165.13

 (13%)

₹ 1,582.56

 (13%)

₹ 1,064.38

 (14%)

₹ 798.28

 (14%)

₹ 536.85

 (15%)

₹ 402.64

 (15%)
YESB EMI
₹ 1500

₹ 3,165.13

 (13%)

₹ 1,582.56

 (13%)

₹ 1,064.38

 (14%)

₹ 798.28

 (14%)

₹ 536.85

 (15%)

₹ 402.64

 (15%)
NOTE: The EMI table above is indicative for just this item. Actual amount payable will depend on your cart and will be shown at checkout.
Buy Coir Mattress Online
The coir mattress has gained immense popularity in recent years. Combining the natural benefits of coir with modern technology, coir mattresses provide a slumber experience that is both comfortable and environmentally friendly. Duroflex Durobond Pro coir mattress provides just the sleep you need. If you're looking to buy a coir mattress online, it is crucial to take into account certain factors. This comprehensive guide will help you buy your favorite coir mattress that best suits your needs.
What is a Coir Mattress?
The primary component of a coir mattress is coir, which is frequently combined with other materials, such as foam, to enhance its convenience and support. Coconut husks are processed to obtain coir, which is then compressed and layered to form the mattress's interior.

Coir mattresses that enhance comfort using a top layer of foam are known as coir foam mattresses. Coir and foam work together to provide the optimal balance of softness and firmness. The ideal combination of these two materials gives adequate support to the spine and joints while caring for the body's comfort.
How is a Coir Mattress Different from Other Mattresses?
A coir mattress is different from other bed mattresses in the following aspects:
Natural material: Coir mattresses are constructed from coir, a natural fiber derived from coconut shells. For instance, the Duroflex Durobond Pro Dual Side Coir Mattress has coir and polyurethane layers to provide a comfortable and eco-friendly sleeping experience.
Firm Support: Coir mattresses are known for their firmness, which provides the body with excellent support while sleeping. The rubberised coir in the Durobond mattress guarantees a stable and sturdy surface, making it suitable for those who prefer a firmer sleeping surface.
Inexpensive: Coir mattresses are relatively inexpensive when compared to some high-end mattresses. The coir bed mattress price offered by Duroflex is affordable, making it an attractive option for those in search of an inexpensive yet high-quality accommodation option.
Dual-sided design: Numerous coir mattresses, such as the Duroflex Durobond Pro, feature a dual-sided design. This allows you to choose between a firm or medium-firm surface, accommodating individual comfort preferences.
Durable and Long-Lasting: The Durobond NXT technology utilized in Duroflex mattresses guarantees long-lasting performance and aids in maintaining the mattress' shape and support over time.
Coir Mattress Sizes
Coir mattresses such as the Duroflex Durobond Pro are available in the following sizes:
Single Size Coir Mattress: Appropriate for a single individual, measuring approximately 36 inches wide by 75 inches long.
Double Size Coir Mattress: Designed for two individuals, this mattress is typically 54 inches wide and 75 inches long.
Duroflex Coir Mattress Queen Size: Slightly larger than the double measurement, measuring approximately 60 inches by 80 inches.
King Size Coir Mattress: The largest option, measuring approximately 76 inches wide and 80 inches long and providing ample space for two individuals
Different Types of Coir Mattresses
A coir mattress can come in the following types:
Rubberised Coir Mattress: Rubberised coir mattresses contain latex or rubber compounds. This enhancement enhances the mattress' resilience, flexibility, and durability.
Coir and foam mattress: A coir and foam mattress combines the advantages of both materials, providing firmness from the coir and softness from the foam layers. Those who favor a medium-firm feel will find it an excellent option.
Durobond Pro Dual Side Coir Mattress: Duroflex's Durabond Pro Dual Side Coir Mattress is an example of a coir mattress. With two layers of coir on one side and polyurethane on the other, this mattress provides two-sided comfort and accommodates a variety of preferences.
Coir Bed: A coir bed is typically a bed frame or base manufactured from coir material, which provides a sturdy and environmentally-friendly foundation for the mattress.
Durobond Mattress: Durobond is a line of mattresses manufactured by Duroflex that features a variety of coir and polyurethane models.
Benefits of Using a Coir Foam Mattress
Advantages of using a coir foam mattress, such as Duroflex's Durobond Pro Dual Side Coir Mattress:
Orthopedic Support: The mattress' combination of coir and foam helps maintain correct spinal alignment, reducing the risk of back pain and promoting better posture.
Anti-allergenic: Because coir is naturally resistant to dust mites and other allergens, this mattress is optimal for individuals with allergies or respiratory issues.
Coir mattress Price: Despite the high-quality materials and dual-sided design, coir foam mattresses such as the Durobond Pro are affordably priced and provide excellent value.
Motion Isolation: Coir foam mattresses absorb and isolate motion, reducing nighttime disturbances caused by a partner's movements and ensuring restful sleep.
How to Take Care of Your Coir Mattress
Here are some points to help you maintain your coir mattress.
Regular Rotation: Coir mattresses tend to compress and develop indentations over time. To even out the wear, rotate your mattress every 3-6 months. Make sure to use both sides by flipping and turning it upside down.
Use a Mattress Protector: Buy a high-quality mattress protector and protect your coir mattress from spills, stains, dust, and dirt. It will also help prevent moisture from seeping into the mattress, which can damage the coir fibers.
Avoid Jumping or Standing: Coir mattresses are not designed for jumping or standing on. This can cause excessive strain on the coir fibers and lead to premature wear and tear.
Keep it Dry: Avoid exposing the mattress to water or liquids as moisture can lead to mold and mildew formation, degrading the mattress's quality. If accidental spills occur, blot them immediately and allow the mattress to dry thoroughly.
Regular Cleaning: Vacuum your coir mattress periodically to remove dust and debris. Use a soft brush attachment to avoid damaging the surface.
Coir Mattress Price
Coir mattress prices are affordable in comparison to other mattresses. Depending on the brand and additional features, the price range for coir mattresses can vary, but they are typically a cost-effective sleep solution. The Duroflex Durobond Pro Dual Side Coir Mattress offers a pocket-friendly price point for customers searching for a durable coir-based mattress.

Coir mattresses are available in a variety of bed sizes, ranging from single to king, and each has its own price factor. You can select the size that meets your needs and budget the best. The coir bed price is affordable, just like a coir mattress. The price of the Duroflex Pro Dual Side Coir Mattress starts from ₹9,071 (single size- 72 X 36) and goes up to ₹21,167 (king size - 84 X 72).
FAQ's
What is a coir mattress, and how does it differ from other mattress types?

Unlike polyurethane or spring mattresses, coir mattresses provide a more breathable and eco-friendly sleeping surface. They are renowned for their firmness and durability, providing excellent support for the spine while sleeping.

What are the benefits of selecting a coir and foam mattress over a conventional foam mattress?

A coir and foam mattress, such as the Duroflex Durobond Pro Dual Side Coir Mattress, offers enhanced comfort and support by combining the benefits of coir and foam.

Where can I locate the price list for the Duroflex Durobond Pro Dual Side Coir Mattress?

The price of the Duroflex Durobond Pro Dual Side Coir Mattress varies depending on the size and options you select. Visit the official Duroflex website for the most up-to-date pricing information and a complete coir mattress price list.