duroflex flexi - lightweight travel friendly slim mattress (grey)
---
Features
• Multipurpose
• Portable
• Lightweight
• Signature quilted fabric
• Durable
• 1 year warranty
Regular price
M.R.P: ₹ 2,530

(Inclusive of all taxes)
14% off
You Save ₹ 379
Unit price
per
(Inclusive of all taxes)
Sale
Sold out
Get it as low as ₹ 2,043.45 using coupon SAVENOW offer *T&C Apply.
Please enter pincode to validate
Shipping Available at: Change
Estimated delivery at .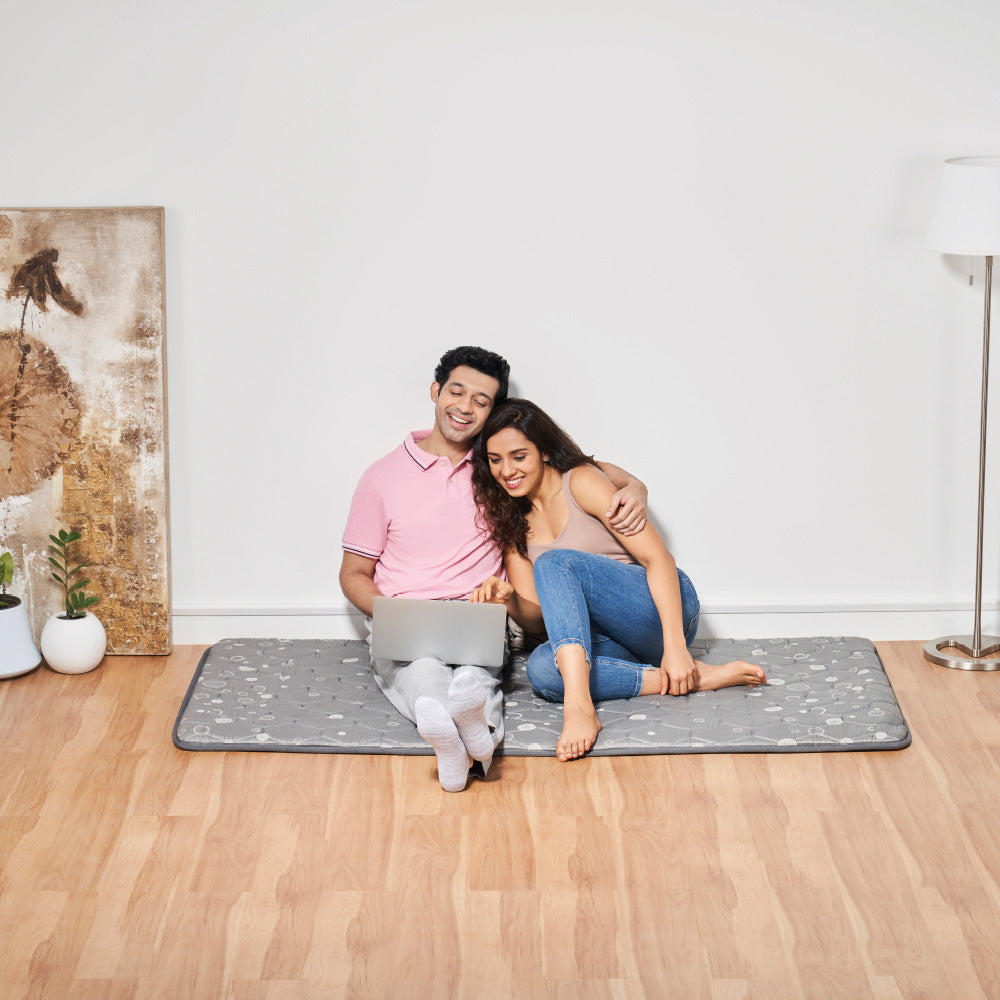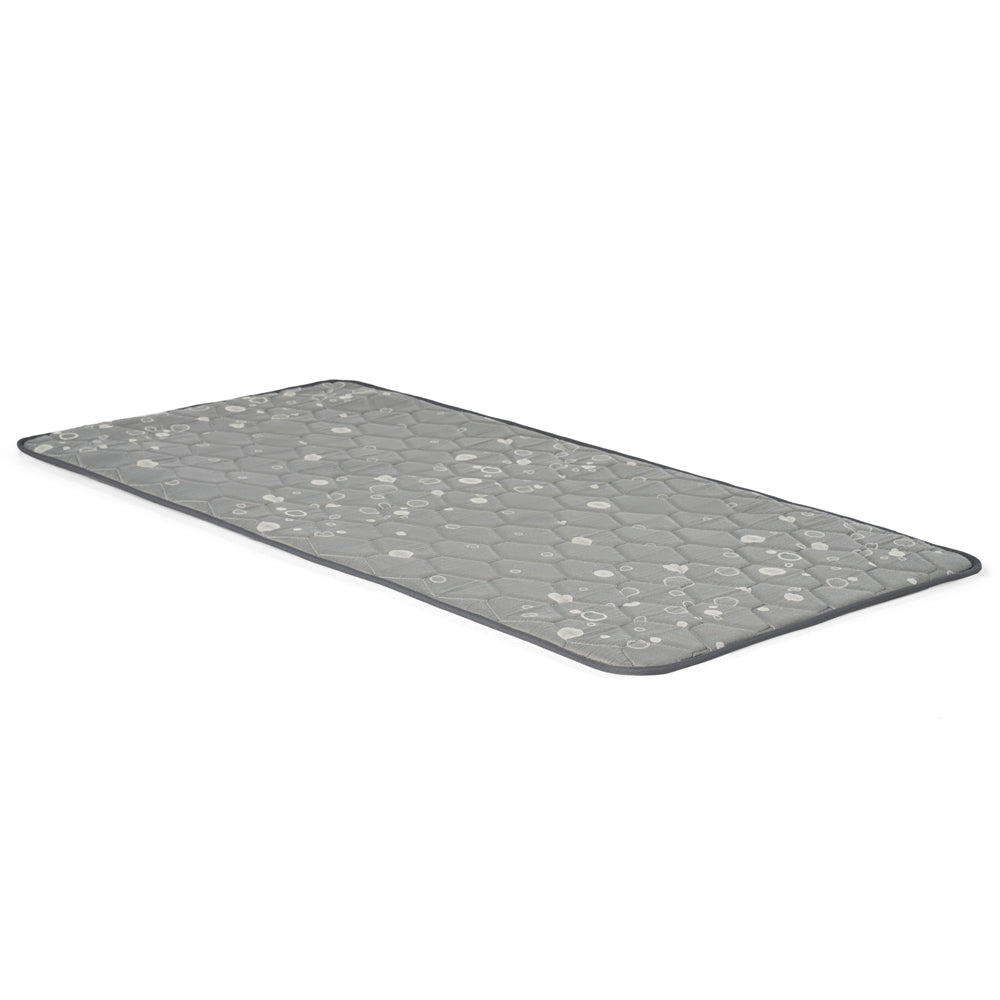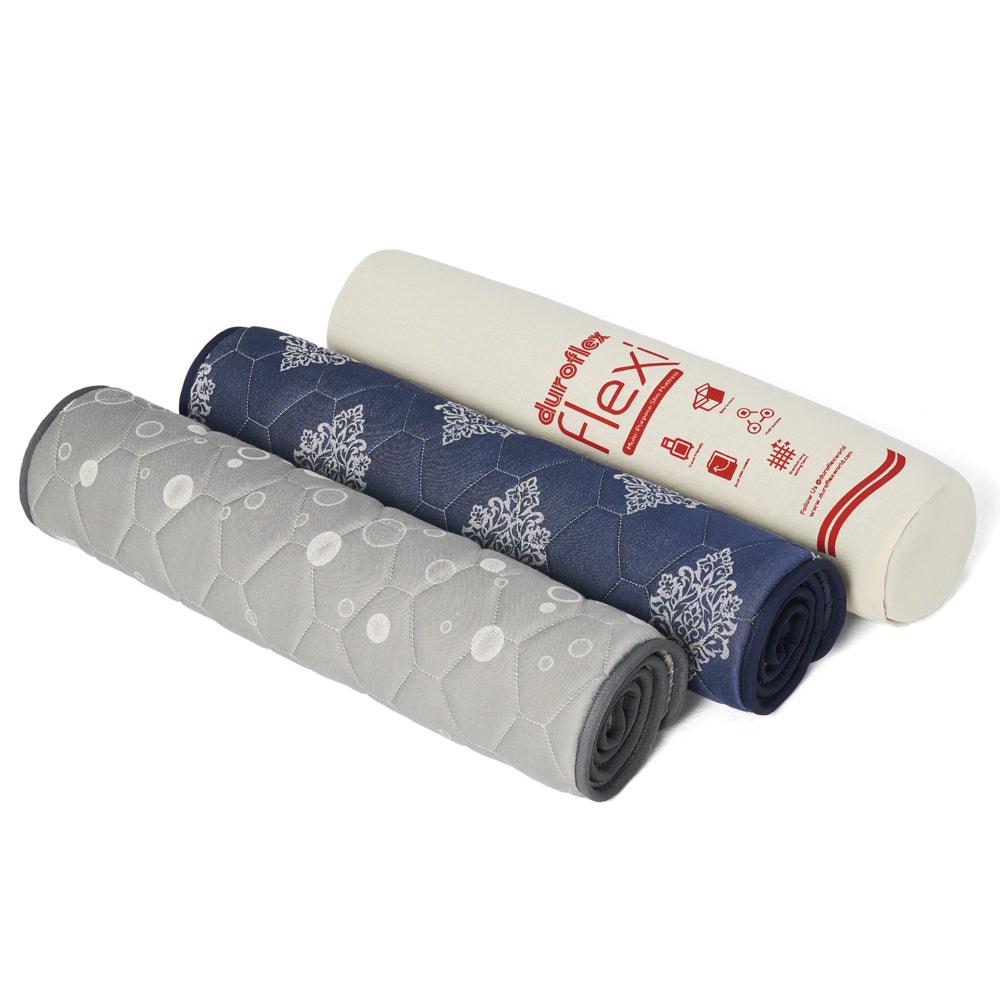 LIGHTWEIGHT SLIM (GREY)
Let the good times roll with Flexi by Duroflex. An easy-to-use slim mattress that is not just lightweight and travel-friendly but also comfy enough for you to spend the entire day on. This multi-purpose, dual-sided slim mattress can be used as a place to unwind with a book, to meditate, as an extra seating for that movie watch party or simply to laze around. Just like its name, Flexi is easy to store, it can either be rolled up or folded, as per your convenience.
FEATURES
Durable
Sturdy construction and a high-quality finish makes Flexi a long-lasting choice for regular use.
Dual Side Usable
Thoughtfully designed for double sided usage without compromising on the cushioned comfort it offers.
Easy to Store
Flexi's design makes it portable, travel-friendly and easy to store.
Multi-purpose
Truly versatile, use it as an exercise mat, carry-around mattress, prayer mat, play mat and more.
KNOW MORE
PRODUCT SPECIFICATION
Features
Details
Mattress Type
Slim
Firmness
Soft
Material
Foam
Weight
1.1kgs
Fabric Type
Jacquard woven fabric
Best Suited For
People looking for a multipurpose , lightweight comforting surface for everyday leisure activities and to carry while travelling
Dual Side Usage
Yes
CARE INSTRUCTIONS
DON'T IRON ON THE MATTRESS
Doing so may damage the pillow interior and make it lose its original shape
ONLY SPOT CLEAN
We encourage to only spot clean the mattress using warm water and a suitable detergent

Duroflex Flexi - Lightweight Travel Friendly Slim Mattress (Grey)
Regular price
M.R.P: ₹ 2,530

(Inclusive of all taxes)
14% off
You Save ₹ 379
Unit price
per
(Inclusive of all taxes)
Sale
Sold out
Get it as low as ₹ 2,043.45 using coupon SAVENOW offer *T&C Apply.
EMI Options
Bank Name
Minimum Amt.
3 EMI
6 EMI
9 EMI
12 EMI
18 EMI
24 EMI
AMEX EMI
₹ 5000

₹ 817.38

 (14%)

₹ 408.69

 (14%)

₹ 272.46

 (14%)

₹204.34

 (14%)

₹136.23

 (14%)

₹102.17

 (14%)
BARB EMI
₹ 2500

₹ 810.21

 (13%)

₹ 405.10

 (13%)

₹ 270.07

 (13%)

₹202.55

 (13%)

₹137.42

 (15%)

₹103.06

 (15%)
CITI EMI
₹ 2500

₹ 810.21

 (13%)

₹ 405.10

 (13%)

₹ 274.85

 (15%)

₹ 206.13

 (15%)

₹ 137.42

 (15%)

₹ 103.06

 (15%)
HDFC CC
₹ 3000

₹ 824.55

 (15%)

₹ 412.27

 (15%)

₹ 274.85

 (15%)

₹ 206.13

 (15%)

₹ 137.42

 (15%)

₹ 103.06

 (15%)
HSBC CC
₹ 2000

₹ 824.55

 (15%)

₹ 412.27

 (15%)

₹ 274.85

 (15%)

₹ 206.13

 (15%)

₹ 137.42

 (15%)

₹ 103.06

 (15%)
ICICI EMI
₹ 1500

₹ 810.21

 (12.99%)

₹ 408.69

 (13.99%)

₹ 272.46

 (13.99%)

₹ 204.34

 (13.99%)

₹ 137.42

 (14.99%)

₹ 103.06

 (14.99%)
INDB EMI
₹ 2000

₹ 810.21

 (13%)

₹ 405.10

 (13%)

₹ 270.07

 (13%)

₹ 202.55

 (13%)

₹ 137.42

 (15%)

₹ 103.06

 (15%)
KKBK EMI
₹ 3000

₹ 803.04

 (12%)

₹ 401.52

 (12%)

₹ 272.46

 (14%)

₹ 204.34

 (14%)

₹ 137.42

 (15%)

₹ 103.06

 (15%)
₹ 3500

₹ 831.72

 (16%)

₹ 415.86

 (16%)

₹ 277.24

 (16%)

₹ 207.93

 (16%)

₹ 138.62

 (16%)

₹ 103.96

 (16%)
RATN EMI
₹ 1000

₹ 810.21

 (13%)

₹ 408.69

 (14%)

₹ 274.85

 (15%)

₹ 206.13

 (15%)

₹ 137.42

 (15%)

₹ 103.06

 (15%)
SBIN EMI
₹ 2500

₹ 817.38

 (14%)

₹ 408.69

 (14%)

₹ 272.46

 (14%)

₹ 204.34

 (14%)
SCBL EMI
₹ 2500

₹ 803.04

 (11.88%)

₹ 405.10

 (13%)

₹ 272.46

 (14%)

₹ 204.34

 (14%)

₹ 137.42

 (15%)

₹ 103.06

 (15%)
UTIB EMI
₹ 3000

₹ 810.21

 (13%)

₹ 405.10

 (13%)

₹ 272.46

 (14%)

₹ 204.34

 (14%)

₹ 137.42

 (15%)

₹ 103.06

 (15%)
YESB EMI
₹ 1500

₹ 810.21

 (13%)

₹ 405.10

 (13%)

₹ 272.46

 (14%)

₹ 204.34

 (14%)

₹ 137.42

 (15%)

₹ 103.06

 (15%)
NOTE: The EMI table above is indicative for just this item. Actual amount payable will depend on your cart and will be shown at checkout.
A good travel friendly mattress
Good travel friendly slim mattress
Duroflex Flexi
Introduction
A good night's sleep is essential for overall well-being, and the type of mattress we choose plays a significant role in ensuring a comfortable slumber. While thick and plush mattresses are commonly favored, thin mattresses have also gained popularity for their unique benefits. In this blog, we will explore the concept of thin mattresses, their advantages, key features, and who can benefit most from using them. From their historical origins to the diverse range of individuals they cater to, we will uncover why thin bed mattresses are an increasingly sought-after sleep solution, promising a restful and rejuvenating experience.
What is a Thin Mattress?
A thin mattress, also known as a slim mattress, is a type of bedding that stands out for its reduced height compared to traditional thick mattresses. These mattresses are designed to be thinner while maintaining adequate support and comfort levels for quality sleep. The concept of thin mattresses has evolved over time to cater to various sleep preferences and requirements.

The origin of thin mattresses can be traced back to ancient civilisations, where simple bedding materials, such as straw, leaves, or animal skins, were used to create a sleeping surface. Over time, various cultures developed their mattress-making techniques, incorporating different materials like cotton, wool, and even feathers. In the modern era, advancements in technology and materials have led to the creation of thinner yet supportive mattresses to meet the needs of individuals seeking a minimalist sleep experience.
Advantages of Using a Thin Mattress
The following are the benefits of using a slim mattress.
Easy to Transport: Due to their reduced thickness, thin mattresses are lightweight and easy to carry, making them convenient for those traveling or frequently moving around.
Versatile Use: Thin mattresses can be placed on various surfaces, such as platform beds, futons, or even directly on the floor, offering versatility in sleep arrangements.
Temperature Regulation: With less material and thickness, thin mattresses tend to have better airflow, promoting temperature regulation and preventing overheating during sleep.
Cost-Effective: Thin mattresses are often more budget-friendly compared to thicker, more luxurious options, making them an affordable choice for quality sleep.
Suitable for Children: A foldable thin mattress can be an excellent option for children, as they provide the necessary support and comfort without excessive height.
Features of a Slim Mattress
Here is a list of excellent features of a slim mattress.
Reduced Height: The primary feature of a thin mattress for a bed is its reduced height, typically ranging from 5 to 8 inches, catering to those seeking a lower-profile sleep surface.
Supportive Materials: Slim mattresses are crafted using high-quality materials, such as memory foam or latex, to offer the right balance of comfort and support.
Responsive Construction: The materials used in slim mattresses are often responsive, contouring to the body's shape and providing pressure relief for a comfortable sleep experience.
Breathable Fabrics: Many slim mattresses feature breathable fabrics and advanced airflow designs to enhance ventilation, promoting a more relaxed sleep environment.
Portable and Rollable: Some slim mattresses are designed to be easily rolled or folded, making them convenient for storage or travel purposes.
Compatibility: Slim mattresses are compatible with various bed frames, such as platform beds, bunk beds, trundle beds, and even adjustable bases.
Price List of Thin Travel Mattress
The Duroflex Flexi Lightweight Travel-Friendly Slim Mattress comes in two sizes - 78 X 30 and 78 X 36. The prices for these two variants are ₹2,530 and ₹2,785, respectively. However, you can get the foldable travel mattress at a discounted price from the Duroflex website.
Who Can Use a Slim Travel Mattress
A slim travel thin mattress for the floor is a versatile sleep accessory that caters to the needs of various individuals seeking comfort and convenience during their journeys. Designed to be portable, lightweight, and space-saving, these mattresses offer a restful sleep experience even when away from the comforts of home. Let's explore in more detail the different types of people who can benefit from using a slim travel mattress:
Frequent Travelers: Frequent travelers, whether for business or leisure, often encounter different sleeping arrangements. A slim travel mattress becomes their reliable companion, ensuring they have a comfortable and familiar sleep surface wherever they go. Whether staying in hotels, guest rooms, or even camping outdoors, a compact and easy-to-carry slim mattress provides a consistent and comfortable place to rest.
College Students: College life often entails residing in dorm rooms or shared apartments with limited space. A slim travel mattress becomes an essential addition for college students seeking an upgrade from standard dorm beds. The mattress can be conveniently stored and easily transported during semester breaks or when changing living spaces, ensuring a comfortable and personalized sleep experience away from home.
Back Pain Sufferers:People dealing with back pain require proper support for their spine during sleep. A slim travel mattress that offers a firmer sleep surface can be beneficial for such individuals. The mattress provides adequate support, helping to alleviate discomfort and improve overall sleep quality, even when traveling.
Older Adults: For older adults, getting in and out of bed can become challenging due to mobility issues. A slim travel mattress, with its lower profile, makes it easier for them to access the bed, promoting independence and comfort. These mattresses are also more suitable for seniors who prefer a firmer and more supportive sleep surface.
Conclusion
Thin mattresses, also known as slim mattresses, have emerged as a practical and versatile sleep solution, catering to a diverse range of individuals seeking comfort and support without excessive height. From their historical origins to modern-day advancements, thin mattresses have continued to evolve, offering space-saving benefits, firm support, and convenience for travelers and individuals with limited living spaces. Versatile, portable, and designed to meet the unique needs of various user groups, slim mattresses promise a restful and rejuvenating sleep experience for all those who embrace their minimalist charm.
FAQ's
What is a thin mattress called?

Thinner mattresses don't have a specific name. However, there are futons or folding mattresses that are thinner than regular mattresses.

Is a thinner or thicker mattress better?

It depends on the desired use. It is not recommended to sleep on a very thin mattress. They are great to lounge around on.

Is 4 inch mattress too thin?

No, 4 inch mattresses are not too thin. Anything below 4 inches can however to too thin to get proper sleep.

Can a Duroflex foldable mattress provide adequate support?

Yes, thin mattresses can provide adequate support, especially for individuals who prefer firmer sleep surfaces. They are designed with supportive materials like memory foam or latex, ensuring proper spinal alignment and pressure relief.

Are thin mattresses durable?

The durability of a thin mattress or a flexi mattress depends on the quality of materials and construction. High-quality slim mattresses can be just as durable as thicker mattresses, provided they are well-maintained and used appropriately.

Can I use a thin mattress on an adjustable bed base?

Yes, slim mattresses are often compatible with adjustable bed bases, allowing users to enjoy the benefits of customisation and personalized comfort.

Are thin mattresses suitable for side sleepers?

While thin mattresses provide adequate support, side sleepers may prefer thicker mattresses with more cushioning to accommodate their hips and shoulders' pressure points.

Can I use a thin mattress as a topper?

Yes, a thin mattress can be used as a topper to enhance the comfort of an existing mattress. Placing a slim mattress on top of a firmer mattress can provide additional cushioning and softness for sleepers who desire a plush sleep surface.